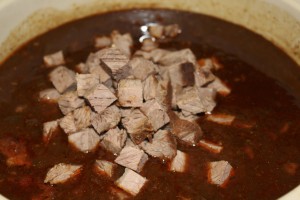 Entered the 13th Annual Chili Cook-Off at the University for the first time in about five years – I won Best Chili that year.  Also, I am totally in love with my stove-top smoker so this year I wanted to do a Cowboy Chili – something that would taste like you were sitting right next to a campfire.  I didn't win any of the categories but the chili was very good.
First the brisket rub was inspired by Emeril's Texas-Style Smoked Brisket – 2 Tbsp dark brown sugar  / 2 Tbsp chili powder / 2 Tbsp paprika / 1 Tbsp garlic powder / 1 Tbsp cayenne / 2 tsp dry mustard powder / 2 tsp ground cumin…
.. rubbed into a 4 lb. beef brisket which was then wrapped tightly in plastic wrap and refrigerated overnight.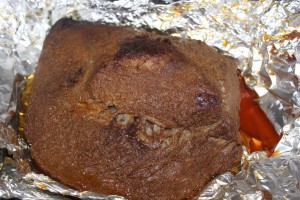 Smoked in the stove-top smoker for 1-hour with hickory smoke then roasted in a 275-degree oven for 3-hours.  Cooled and then put into the fridge overnight.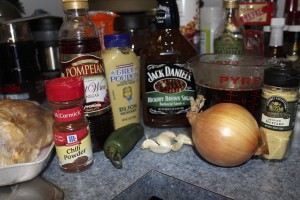 Now for the Cowboy Chili – Inspirational recipe: Williams-Sonoma Cowboy Beans: Ham hock / 1 medium yellow onion, diced / 1c Jack Daniels Hickory Brown Sugar BBQ Sauce / 2 Tbsp red wine vinegar / 2 Tbsp Dijon mustard / 1 Tbsp dry mustard / 1 Tbsp granulated garlic / 1 Tbsp chili powder / 6 cloves of garlic / 2c strong coffee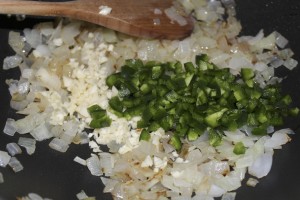 Sauté diced onion, garlic, and jalapeño until onion is translucent. In the slow cooker, combine liquid ingredients, spices, onion mixture, and ham hock.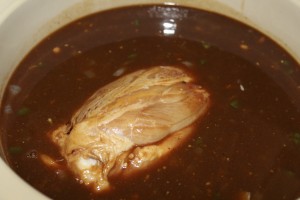 Cook overnight on Low.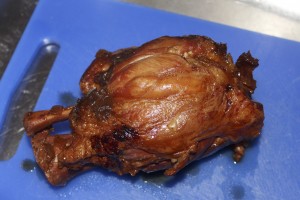 In the morning, removed the ham hock and, once cool enough "pulled" the fork tender meat and returned it to the slow cooker.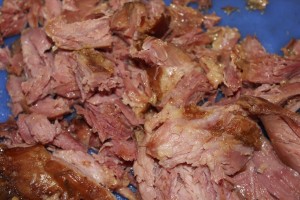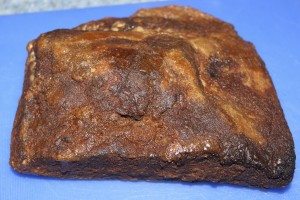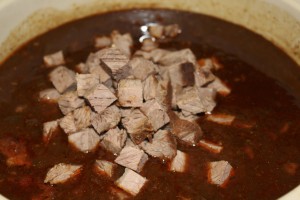 Took the smoked brisket, cut into cubes and added to the slow cooker.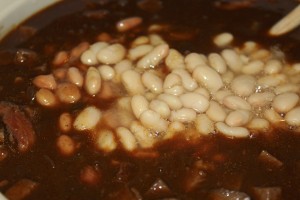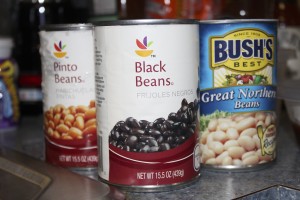 Then added in rinsed and drained beans: Pinto beans, Black beans, and Great Northern Beans.  Let simmer on Low until the competition about 4 more hours minus transportation time.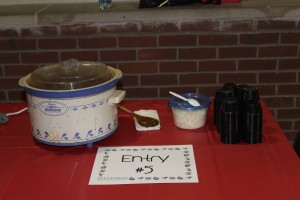 That's me – Entry #5 – I topped the samples with Queso fresca (Mexican cheese)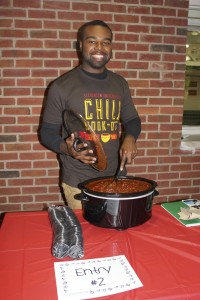 There were six contestants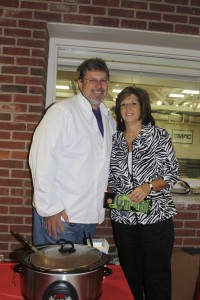 I wasn't able to get pics of everyone – the winner of Spiciest had an Indian / Curried style chili that was a hit.
Most unusual was a pumpkin chili and a super yummy very traditional chili won Best Chili AND People's Choice.  I didn't get a chance to take a pic of my final bowl but it turned out very well.  It makes for a sweet chili that could have been a little thicker and a little hotter but was good and is definitely a recipe I'll work on – maybe for next year's competition.