Christmas Eve we had snow – at least a little layer that made everyone feel festive.  We were hoping that the local ski resort would be open so we could go skiing but no such luck.
Christmas Eve we had company for part of the day, one of my oldest and dearest friends stopped by.  Brunch was a good southern meal of sausage gravy & biscuits and eggs, which my daughter skillfully prepared.  Unfortunately I didn't get any pictures because I was busy wrapping presents.  After our guest left, my daughter and I went to see Les Miserables.  Once my Heart was home from running errands and we were back from the movie – Cheeses, salami, Pate
, bread, and
 crackers made for a very satisfying dinner.
Christmas morning brunch: Smoked Salmon Florentine Eggs Benedict: Toasted English muffin topped with slices of lox, wilted spinach, poached eggs and Hollandaise sauce
Mid-afternoon my Heart decided we needed a little something sweet so he made gluten-free pancakes topped with some leftover coconut pecan frosting.  These were a lovely treat with some hot tea.
Now to the main course: started with chopped sage and lemon zest.  Softened bacon in a drizzle of olive oil then added bacon and browned – followed by the pine nuts, sage and lemon peel.  Note: next time I will "toast" the pine nuts before adding to this mixture so they have a nuttier flavor.
The recipe called for a butterflied boneless turkey breast – which, of course, I couldn't find so… I did it myself and it turned out just fine thanks to a good sharp knife.
Final touches to the stuffing: chopped flat-leaf (Italian) parsley – Then added bread crumbs, one beaten egg and freshly ground black pepper
Buttered the foil then laid out the twine for tying up the turkey breast.  My daughter weaved the bacon lattice
Next the boneless butterflied turkey breast, skin side down – covered with plastic wrap and, using a meat tenderizer, "pounded" out the thicker parts so that the entire breast was approximately the same thickness.
Next the stuffing then all wrapped up and tied, ready to go into the oven: 375-degrees for 40-45 minutes wrapped tight in the foil then an additional 15 minutes with the foil open so the outside can brown (internal temperature 165-degrees).
If I do say so myself, it turned out perfect.  The turkey was moist and the stuffing delicious.  There were just four of us at the table: my Heart & I, my daughter, and a co-worker of mine, but it was a very festive and fun meal.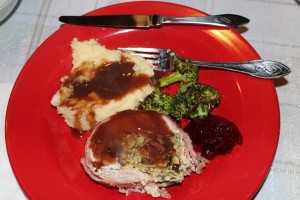 Plated: Stuffed turkey breast and cheesy mashed potatoes topped with my Heart's wonderful gravy, roasted broccoli and cranberry sauce.
My Heart's dessert: a ready-made English Christmas pudding thoroughly soaked in brandy and topped with my Heart's homemade brandy sauce. YUM!