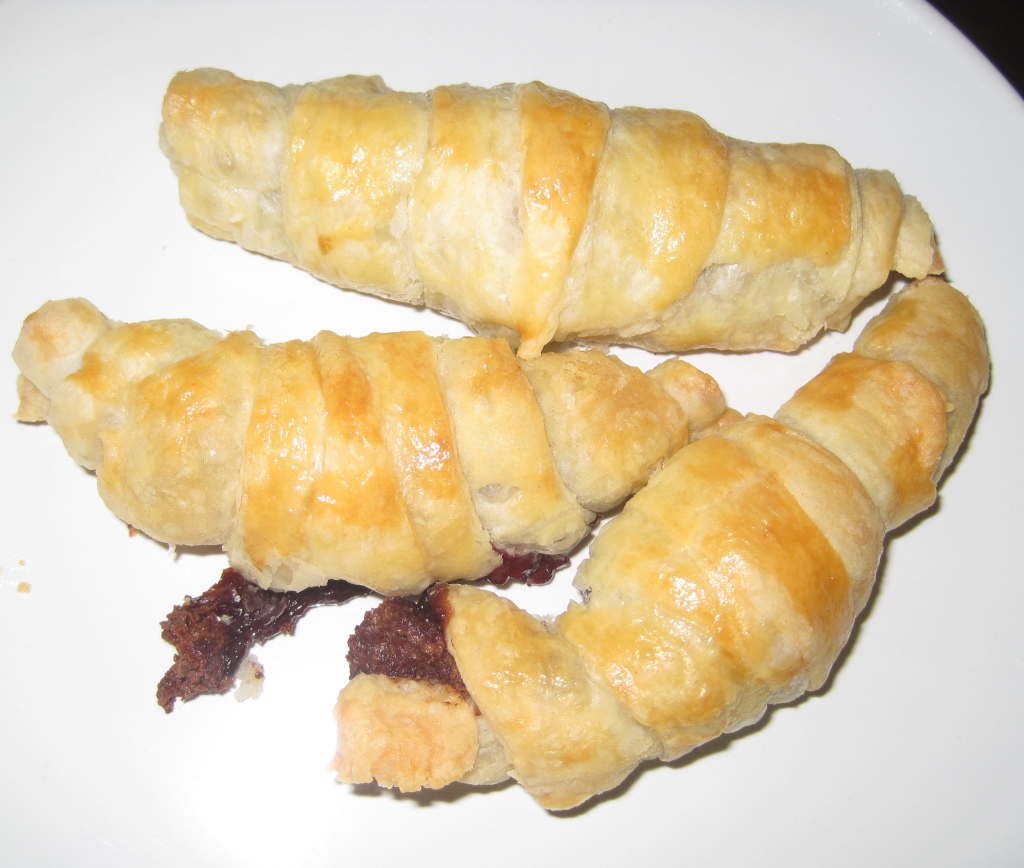 Ok – So if you know me personally, if you visit my blog with any regularity OR if you read a post that has any kind of dessert, you pretty much know that my making dessert is a rarity. Generally it is because 1. My Heart is away or 2. It is my Heart's Birthday or Father's Day or something. The Sunday Roasts where "I" have to come up with a yummy, successful, memorable (in a positive way) dessert is often stressful for me. While desserts aren't my thing, I don't want them to hate it. This dessert rocked and was totally my style – super duper simple. The inspirational recipes: Nutella Croissants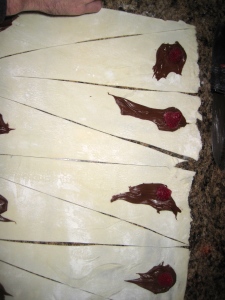 Step one – roll out ready-made puff pastry on a lightly floured surface, using a rolling pin, until smooth and even. With a knife or pizza cutter, cut sheet into long triangles.
Pre-heat oven to 350-degrees F.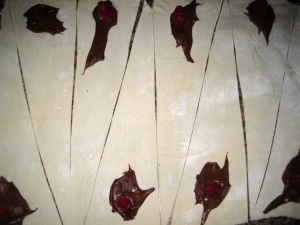 Spread a dollop (about 1 Tbsp) of Nutella on the thicker end of each triangle. Top with a single raspberry.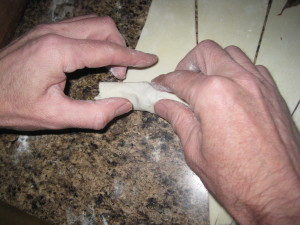 Starting at the Nutella end of the triangle, roll each croissant. Yes, those are my Heart's hands. Yes, this was "my" dessert but he really hates not helping out!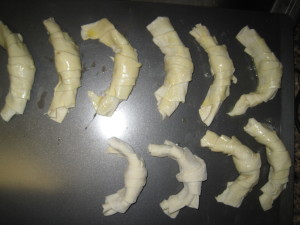 Place each croissant with the end point down on a non-stick baking sheet (or cover baking sheet with parchment paper) and bend each rolled croissant slightly for that distinct crescent shape then brush with an egg wash (1 egg, scrambled with 1 Tbsp water).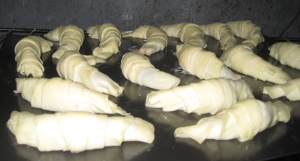 Bake in the pre-heated 350-degree F. oven for 20-25 minutes – until golden brown.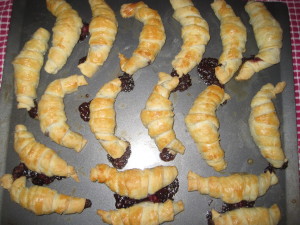 Serve, hot and flaky, fresh out of the oven.
Can't get much simpler than that and the family was working on variations before they were finished with the first pieces.
You could definitely use other spreads, like peanut butter, and other fruits, like strawberries.