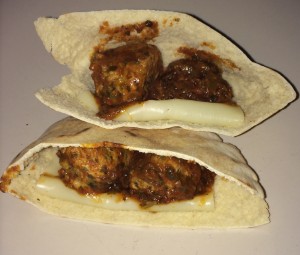 Do you cook based on cravings?  I am not always sure which comes first – here's what's on sale and what I can make and Ooooo… how about this OR I really want (blank) and Look, this is on sale and I can make it work.  I've been wanting to explore more types of meatballs and ways to use them AND really craving a meatball sub.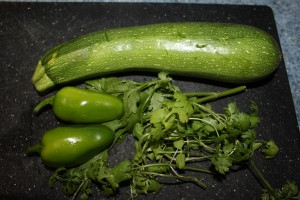 First – YAY for having a garden. I really hate gardening – there is dirt, bugs, and sunshine – BUT, I really love fresh vegetables and herbs! We are part of a community garden at the University where I work so it isn't too much work and, while our bounty is still small (this is just the 2nd year in existence and the dirt last year was very poor but it keeps getting better) it is more than worth the time, effort, dirt, and bugs. Our zucchini didn't do great so the one in the picture is store-bought but the jalapeños and the cilantro and Italian parsley is from the garden.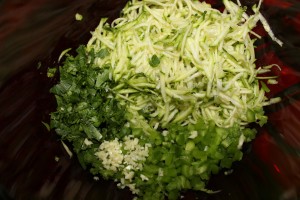 The inspirational recipe: Chicken & Zucchini Poppers – is meant to be an appetizer.
First shred the zucchini, a box grated worked perfect. Also seed and chop the jalapeños (remember, the more seeds left, the hotter the flavor), and chop the Italian parsley and cilantro, and also one clove, fresh garlic, minced.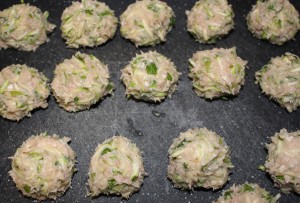 Combine ground chicken with the shredded zucchini, chopped herbs and jalapeños, and garlic. Add some freshly ground black pepper and 1 tsp ground cumin.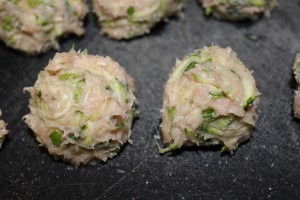 The mixture will be very wet. Seriously! I double checked the inspirational recipe because I thought the meatballs were too "wet". Take scoops of the mixture and hand-roll meatballs. I knew that I was making these for a pita bread sandwich so approximately ping pong ball sized.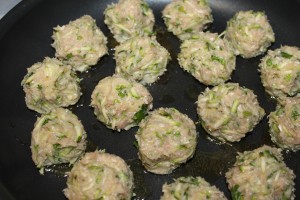 Drizzle 1-2 Tbsp olive oil into a skillet and, over medium high heat, brown the meatballs on all sides: 4-minutes on one side then turn – 4-minutes on that side then turn – etc.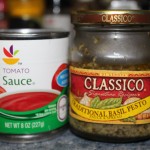 Meanwhile, The Sauce: Meatball subs frequently come with a pizza / marinara-style sauce. I had some jarred pesto in the fridge from the Pesto Salmon earlier in the week so – combine a 8oz can of tomato sauce and 1/3 jar pesto in a bowl.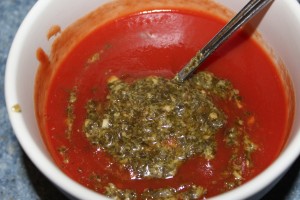 Once the meatballs are browned…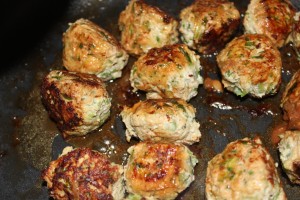 pour in the sauce and reduce to a medium-low heat. Gently stir the sauce into the meatballs to coat thoroughly.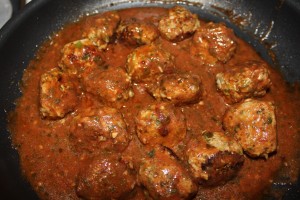 Simmer for 10-minute, uncovered, until the meatballs reach an internal temperature of 165-degrees F.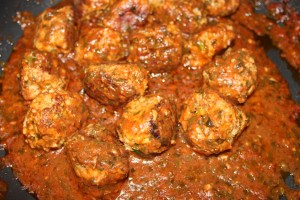 Make sure to grill the pita pockets before stuffing  – see my Philly Sloppy Joe blog for a How To.  That little bit of grilling helps the Pita hold up to the sauce and meatballs.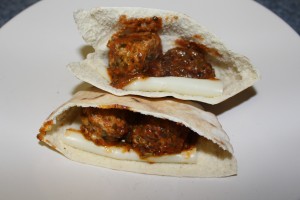 I didn't make these overly fancy – just a slice of provolone and a couple meatballs. I might do more sauce next time, it was that good. Also, the meatballs and sauce would be delicious over pasta as well or in an actual sub roll.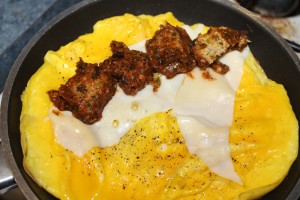 And, thinking outside the box for a Saturday brunch: A puffy omelet with some Italian seasoning and then the last slices of provolone cheese and the last few meatballs. Definitely substantial enough to get us through a busy day.