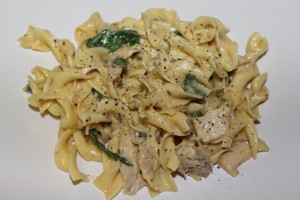 What I really call this is "Chicken Helper – My Way".  We all pretty much know Hamburger Helper and Chicken Helper and all those variations.  Every time I see a person with two or three (or sometimes more) of those in their cart, I want to go up and say, "Here, let me show you how to do this same recipe almost as cheaply and definitely healthier".  Of course, I don't.  I made this dish as a quick dinner for myself when my Heart was traveling a couple weeks ago but I ramped it up tonight.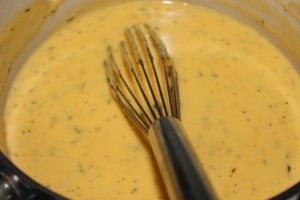 The Key to this type of dish is the sauce. The original reason I made this dish is because of "stuff" in my pantry. I had bought some packages of gravy mixes when my Heart had his surgery for things like mashed potatoes – yes, lazy but they aren't horrible in the ingredients area and there is a low sodium variety. But, as it happened, I did not use them so they are just sitting around.  I am also trying to find substitutes for Cream of Mushroom soup.  The base for this sauce is McCormick's low sodium Chicken Gravy (and yes, I know, NOT gluten-free).   I made the gravy according to the package directions. Once thickened, I added about 2 Tbsp of heavy cream and 1 – 1 1/2c shredded cheddar cheese (not precise on the amount of cheese because I just kept sprinkling until I got the consistency I wanted).  Blended thoroughly until all melted and relatively thick, then added 2 tsp thyme, 1 tsp poultry seasoning, a hearty dash of freshly ground black pepper, and 1 heaping Tbsp of Dijon mustard. The mustard really brings all the flavors together.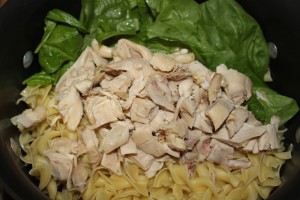 Another reason I made this dish is because I also had a bag of egg noodles in the pantry (also from when my Heart had his surgery – for chicken noodle soup, which I didn't make for miscellaneous reasons).  Cooked approximately 3/4 bag of egg noodles (16oz size) cooked according to the package directions.  Drained and returned to the cooking pot with chopped store-made rotisserie chicken (I used dark meat for this recipe so two legs and two thighs but would definitely be just as good with the breast meat – I am using that for chicken salad) and raw baby spinach.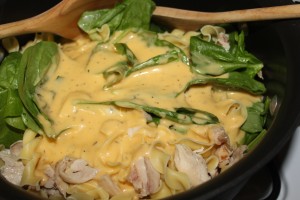 Tossed all the ingredients together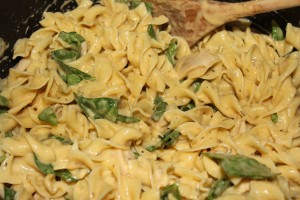 The hot cheesy sauce wilted the spinach perfectly and there is a LOT of sauce but that is actually what you want and is one of the best parts of the dish.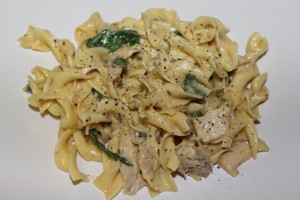 Plated with just a dash more pepper.  This super fast and very simple dish is definitely a do again.
Notes:
Once everything is combined – it would be easy to put the combination into a baking dish, cover with some cheese and/or bread crumbs and bake until golden brown for more of a "casserole" feel.
Almost any vegetable could be substituted but I would parboil broccoli vs. using raw because the sauce won't cook it.  Defrosted frozen peas would also be excellent.
Canned tuna could also be substituted.