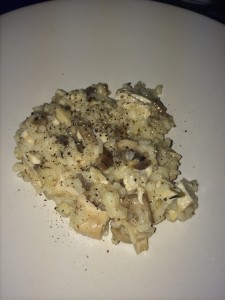 I cook – I am not a chef… I Cook. I am also not a baker but that has been established in many, many previous posts. COOK !  I also consider myself a relatively accomplished cook – I can create my own dishes but I can also follow (ok… sorta) recipes. I have made Beef Wellington, Angel Food cake (from scratch, not a package – I didn't say I can't bake… I just don't like it), soufflé, etc. etc. BUT, I am totally intimidated by Risotto. Most everything you read and hear talks about how "difficult" it is to make "right" and that is probably the key word: Right. I truly believe that Chef Gordon Ramsey will appear in my teeny tiny little kitchen and Yell at me for not doing it "right". I tried a Seafood Risotto years ago and it was completely forgettable. But, on the other side of the coin, I absolutely love risotto so it is both silly and stupid that I don't make it. Well, here goes!
My inspirational recipe was a Roast Chicken Risotto recipe from Olive Magazine in the UK – unfortunately the recipe is no longer available online but I only sorta followed it because I was also looking at the directions on the rice container, which were slightly different.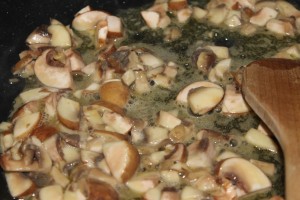 First four large Baby Bella (or crimini) mushrooms, rough chop (I wanted small pieces but also some nice meaty chunks), and sauté with 2 Tbsp butter and 2 Tbsp olive oil.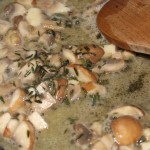 After the mushrooms have sautéed for a bit, added in a small handful of fresh thyme that I had in the freezer – approximately 1/2Tbsp. Continue to sauté the mushrooms until the liquid had evaporated then add in 1-cup of Arborio rice.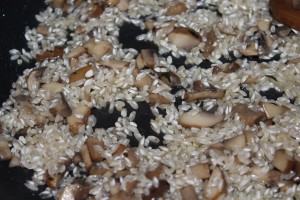 Stir in the rice, coating completely with the oils in the pan and cooking for 2 minutes.  While the rice is tempering, heat 3c of chicken broth in a sauce pan.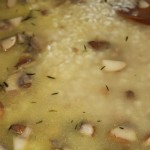 Pour in 1c of Pinot Grigio (white wine) into the pan and let it simmer until it was mostly evaporated.
Now here is one of my sticking points with risotto – how hard to "simmer" it. Is it a soft boil or just a low simmer?  Honestly, directions really don't explain clearly, which I find incredibly frustrating!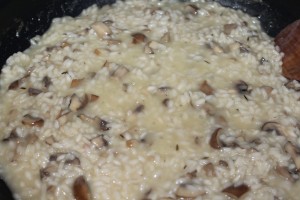 Now the steps – according to the inspirational recipe, I was to add one ladle full of the heated chicken broth and, stirring constantly, cook it down until it evaporated before adding the next ladle full until I had used all 3c of the broth.  According to the rice package, I was to add the broth one CUP at a time through basically the same process – again neither recipe really described how hard a "simmer"… not even the heat level under the rice – like some recipes say "high heat" or "med-high heat" or "low heat".  Nope… NOTHING!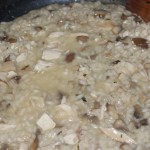 So I followed the package directions – add the broth 1c at a time. Once the last cup of broth is added and it was almost evaporated, add in some chopped store-bought rotisserie chicken (1 breast and 1 thigh) and combine.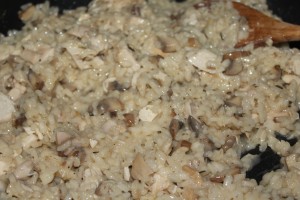 When the remaining broth is completely evaporated and the risotto is tender but still has a slight bite, stir in 1/2c grated Parmesan and add a hearty dash of freshly ground black pepper.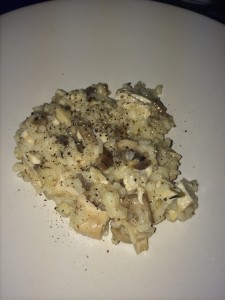 Analysis: It wasn't "perfect". I thought the rice was a tad uneven, with some bits having a little more "bite" then others. My Heart, on the other hand, thought it was just fine and delicious. He also helped a lot by telling me to have another glass of wine as I was cooking so I would not stress so much. Good News: Chef Ramsey did NOT appear in my kitchen and yell at me so that made me feel marginally better.  Also, my Heart (who is truly a patient and wonderful man) listened to all my grumping and set out to find some videos of chefs making risotto so I could actually WATCH the process.  That helped immensely.  I have to say that the flavor of this risotto was delicious if I stopped worrying over the texture of the rice – the mushrooms and chicken paired perfectly together and the mixture was rich and creamy.
Notes for next time:
The two videos we watched that I liked (How to Cook Mushroom Risotto w/ Jamie Oliver & Gennaro and How to Make Risotto from DeLallo Foods) showed me exactly how hard of a simmer to cook at. It really is a low boil, with lots of bubbles.
One variation – the woman in the 2nd video said that it is totally unnecessary to stir constantly. In fast she said it was better not to. That was interesting.
MORE Cheese – I totally did not add enough Parmesan at the end!
Both videos (and a couple I have watched since then) – the chef added either a dash of olive oil or a piece of butter right before serving – Totally doing that next time.
Final outcome – I will continue to work on risotto dishes, feeling far less nervous about it, and my Heart said that he would be very happy to eat all my experiments!