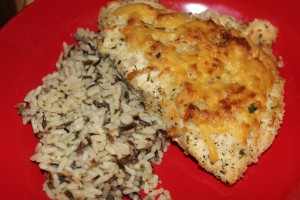 I have had this recipe for years, and by years I mean Years.  I think I got it sometime in the late 70s.  For whatever reason, I haven't made it in years either but it sounded like a perfect meal for this last Sunday Roast.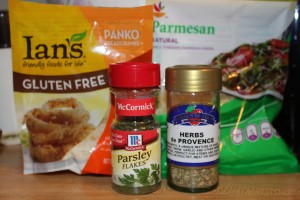 1/2 of the 7oz package of gluten-free panko crumbs  – 1c parmesan cheese – 2 Tbsp dried parsley flakes – 1 Tbsp Herbs de Provence combined in a gallon ziplock.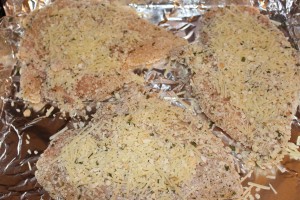 Six boneless, skinless chicken breasts flattened to a maximum 1/4″ thickness – try for a very even thickness.  Coat the chicken in the panko mixture and place on a foil-lined pan, sprinkle a little extra mixture on top. Pre-heat the oven to 425-degrees.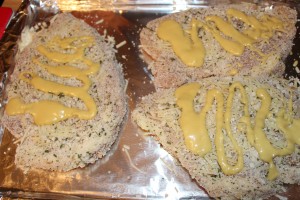 Meanwhile melt one stick of butter and whisk in 2 Tbsp Dijon mustard.  Drizzle over the coated chicken. Place chicken into the pre-heated oven and bake for 20 minutes. This is the reason for the flattened chicken of even thickness, The chicken cooks very quickly.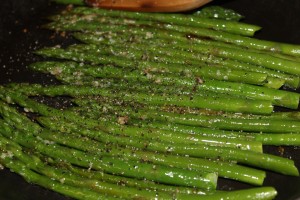 I've almost perfected roasted asparagus – cover asparagus (look for fairly thin stalks) with water in a skillet and bring to a full boil over medium-high heat then turn off the burner and let sit for five minutes then drain thoroughly.  Right before serving, drizzle with olive oil and add the seasoning of your choice, depending on what you are serving. I used freshly ground black pepper and a tiny bit of salt most of the time.  Quickly sauté the asparagus over medium-high heat until it just starts to "toast" the asparagus.  This method leaves the asparagus slightly crisp but not raw.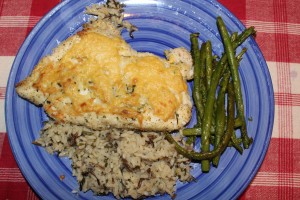 Plated with Uncle Ben's Long Grain & Wild Rice and roasted asparagus.  This was a good Sunday Roast because we were waiting for my Heart to return from a day-long meeting and this dinner can be made fairly quickly at the last minute.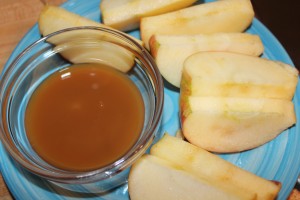 With my Heart in a meeting all day, dessert was up to me… always a scary thing but I think I did pretty good this time.  Honey Crisp apples sliced and drizzled with fresh lemon juice, to keep the apples from turning brown, served with slightly warmed caramel sauce.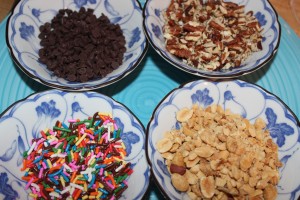 Choose Your Own Toppings included mini chocolate chips, chopped pecans, chopped, peanuts, and sprinkles.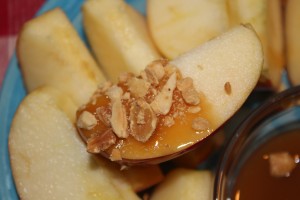 This gives everyone a chance to be creative and have fun with dessert and was a pretty big hit.