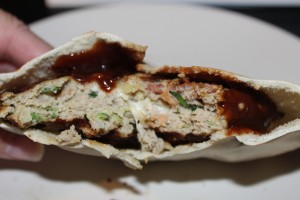 Still hanging on to the "burger weather" and ground turkey was on sale.  I almost followed the inspiration recipe but doubled in the wrong portion – still good and will definitely try again. Inspiration recipe: Bacon Cheese Inside Out Turkey Burger from GreenLiteBites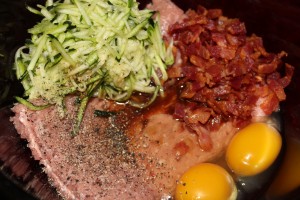 16oz ground turkey (90% fat free) – 1c shredded zucchini – 1/4c chopped cooked bacon – 2 eggs – 1Tbsp Worchestershire sauce – freshly ground black pepper. Mix together. * I doubled the ingredients because there was double the ground turkey but two jumbo eggs was too much – I would keep the rest of the ingredients the same measurement.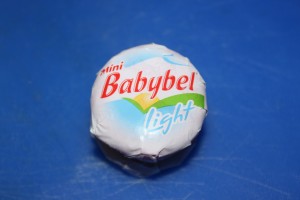 Mini Babybel – cut each Babybel crosswise for Inside the individual hamburgers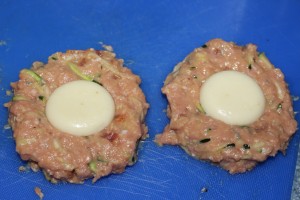 The meat was very moist – made small patties and put one of the split Babybel inside then topped with another small patty.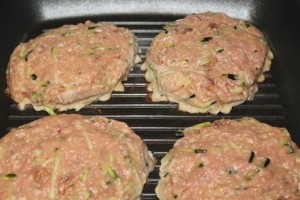 Heated the stove-top griddle to a medium high heat and slid the burgers onto the griddle (they were very soft) – cooked for 7 minutes on each side.  The egg seeped out a bit when cooking.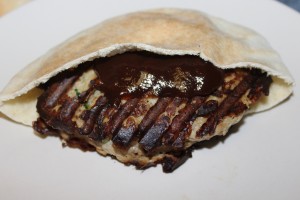 Served in toasted pita halves with a touch of BBQ sauce.  No lettuce, tomatoes, or onions this time  because my Heart is still dealing with digestive issues from his recent surgery.  The edges of the burgers were a little "eggy" but the burgers themselves were delicious – nice and moist with little bits of crunch from the bacon and good flavor…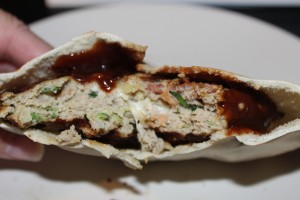 and the cheese in the center was perfect.  Will definitely make this recipe again but will just use one egg.