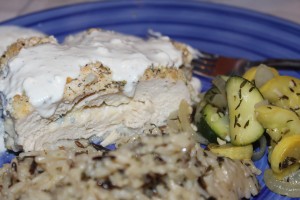 Here is how Sunday Roast works – On Sunday Morning, I start looking at the weekly sale flier for the grocery store where we always do our weekly shopping.  Once we see what is on sale, my Heart and I start talking dinner.  Hamburger on sale?  Meatloaf?  Pork Tenderloin on sale?  Stuffed tenderloin?  Boneless chicken breast?  There are a couple thousand Ideas and this was the one that came together this Sunday morning.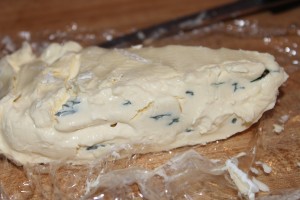 We are fans of Cambozola.  Cambozola is a cow's milk cheese that is a combination of a French soft-ripened triple cream cheese and Italian Gorgonzola and is often marketed as blue brie.  It has the same lovely creamy texture of brie but also the saltiness and bite of a blue cheese.  YUM!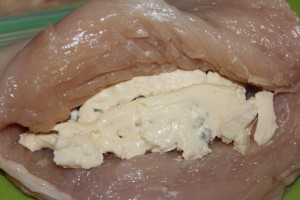 Using a meat tenderizer, pound boneless, skinless chicken breasts to an even thickness (about 1/2″ thick) and then slice crosswise, part way, to create a pocket for the cheese.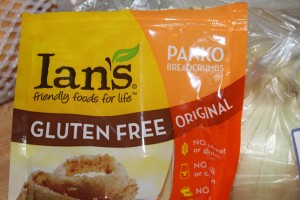 Prep: Preheat oven to 350-degrees.  Cover a baking dish with foil
Dip the stuffed chicken breasts in an egg/water wash (2 eggs & 1 tbsp cold water) and then coat in gluten-free panko breadcrumbs.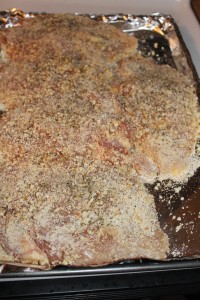 Sprinkle coated chicken with Herbs de Province (or your seasoning of choice) and freshly ground black pepper then drizzle with a little olive oil.  Bake in the pre-heated oven for 25 minutes.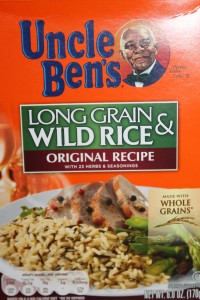 Side dish 1:  We enjoy this Long grain & wild rice mixture.  It is not excessively high in sodium and has a good flavor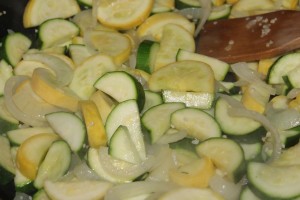 Side dish 2: Mince garlic clove and slice one medium onion, three small zucchini and two yellow summer squash.  Sauté in 1 Tbsp olive oil until tender.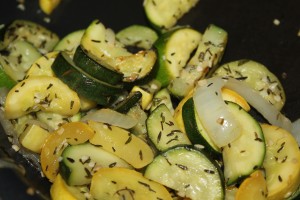 Season squash with 2 tsp thyme and freshly ground black pepper.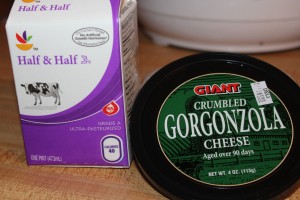 Sauce: This was also an experiment – Heat 1c half & half over medium heat to a gentle bubble (a little more than a simmer but less than a boil so it doesn't separate), add in 4oz crumbled Gorgonzola  and melt into the cream.  Cook for 10-minutes or so for a slight reduction.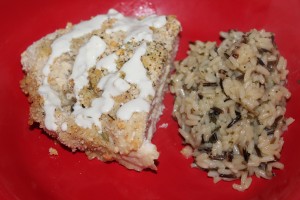 The chicken breasts were huge so we cut them in half for each serving, leaving lots for leftovers (and they re-heated beautifully – made for great lunches).  Everyone loved the sauce, which had slightly thickened and had that wonderful salty, blue bite.  The wild rice and squash had more than enough flavor to stand up to the chicken and sauce. YUM!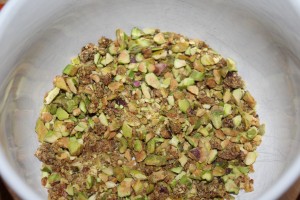 Had to share my Heart's gluten-free "cannoli".  First, pistachios toasted with brown sugar
For his cannoli cream, he whips 1c heavy cream to just starting to thicken then adds 1 pint of ricotta cheese, 1/4c granulated sugar, 2 Tbsp turbinato sugar to give it a grainy feel and, in this case, 1tsp almond extract (other times he uses vanilla extract). Continue whipping until just starting to thicken and then add in any flavorings like chocolate chips or, in this case, some of the toasted praline pistachios and mini chocolate chips.  Combine and refrigerate.  This keeps for about a week and is very nice to have for quick desserts.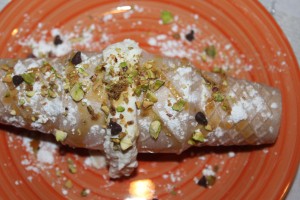 The "cannoli" – two gluten-free ice cream cones filled will some filling and put "together" then sprinkled with the praline pistachio mixture and mini chocolate chips.  You can just fill one cone but he wanted that cannoli-look.  Absolutely delicious, not too sweet, AND gluten-free!!!