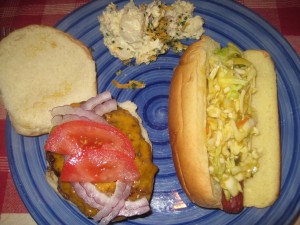 We hadn't done burgers yet this summer, it was a very busy weekend and Sunday so I wanted a meal that would be speedy AND I had an idea!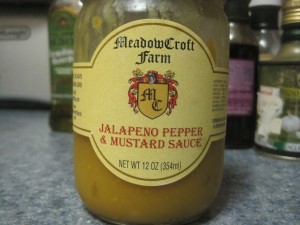 We bought this at a craft festival last year because we loved the flavor and yet… I had never used it.   Also – I really don't like Cole Slaw… IDEA!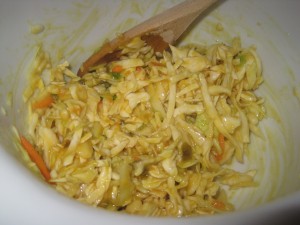 Combined packaged cole slaw mix with 1/2+ cup of the jalapeño pepper & mustard sauce from Meadow Croft Farms and set aside to marinade as the rest of dinner came together.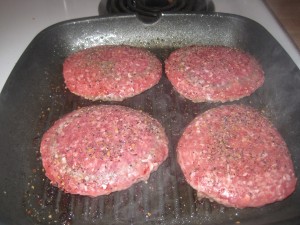 Store-made hamburgers – I Always make my own but we were on a time schedule and these burgers were on-sale.  They were actually really good.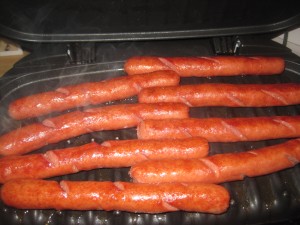 Hebrew National Beef Franks were also on sale – they are pretty skinny but full of flavor.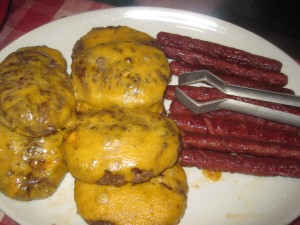 Cooked the burgers (topped with slices of American cheese) on the stove-top griddle and the dogs on the George Foreman.  Really DO miss having a BBQ Grill !!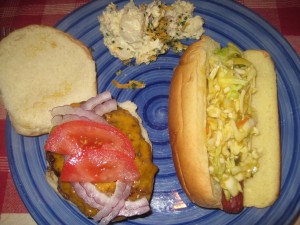 Bought store-made potato salad and macaroni salad for sides. Thin sliced tomatoes and red onions for toppings.
It turns out my family had serious doubts about this cole slaw idea – they were so not onboard.  Boy were they wrong (and they admitted it) – the jalapeño mustard is just vaguely spicy but also has a slightly sweet and mustardy flavor that was perfect with those very crisp and delicious beef dogs.  The hamburgers stayed juicy and cooked up just right.  It might have been a quickie meal but everyone seemed pretty satisfied and full afterwards.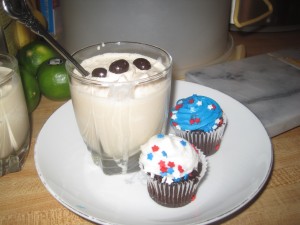 My Heart definitely brought the BBQ / Homey feel to dessert – Red / White / Blue store-bought mini cupcakes infused with PATRÓN XO CAFE and mocha "shakes" with the same coffee tequila and topped with chocolate covered coffee beans – positively sinful.