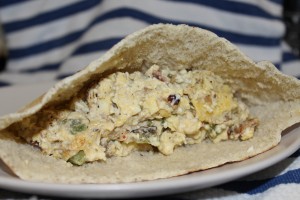 This was one of those weekend mornings when we knew we would be eating later but not That much later and, rather than spending money on some fast food / quickie breakfast while running errands or trying to wait for dinner by eating nut bars / granola, I dug around the fridge looking for leftovers and breakfast makings.  Sometimes those mornings make the Best breakfasts / brunches!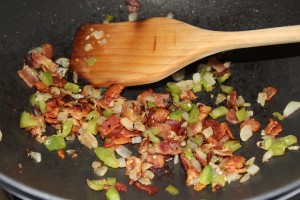 Started out with sautéed chopped green peppers and onions and added some of the cooked chopped bacon that we keep in the freezer.  Truly – it is always so handy to have – for breakfasts like this, fried rice, soups, salads, whatever!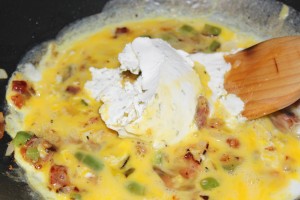 Stirred in four well-beaten eggs and, as they started to set, added in @ 3oz Philadelphia reduced fat soft cream cheese: Chive & Onion flavor (what was leftover from a meal earlier in the week, which is why the measurement is approximate). I have a friend who would always add cream cheese into her scrambled eggs – it makes them extra creamy.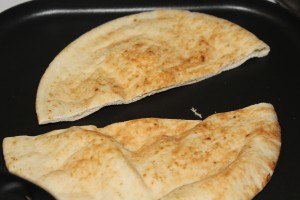 Leftover pita, sliced in half and toasted on the flat griddle.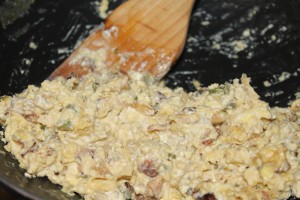 See how creamy the eggs are – they are cooked through but aren't at all dry.  Added lots of freshly ground black pepper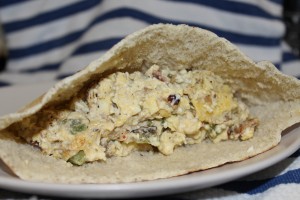 Split open the toasted pita and filled  with the cooked eggs.  Didn't grab a picture but squeezed a little ketchup on my Heart's and a little Sriracha on mine, right before serving.  A nice filling brunch to hold us over until early dinner – fairly healthy, pretty quick, and very cheap – can't beat that!