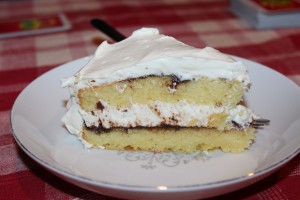 Sorry there aren't more pictures of this amazing cake but it is pretty easy to describe.
First: Gluten-free Yellow Cake (box mix) – baked into 9″ round per package directions with approximately 2Tbsp key lime juice added to mix, to just give a "hint" of the lime – baked and cooled
Filling & topping: Softened cream cheese, heavy whipping cream, vanilla extract, key lime juice & zest – whipped until thick – refrigerate for approximately 30-minutes – helps to thicken the consistency
Chocolate ganache: Dark and milk chocolate melted with butter until smooth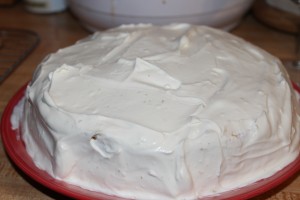 Composition:
Slice cake in half

Spread with chocolate ganache – both bottom and top layers
Spread key lime mixture on bottom layer
Cover with top layer
"Frost" with remaining key lime mixture
Refrigerate for approximately 1-hour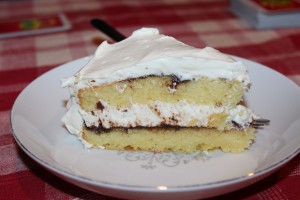 Absolutely delicious – the gluten-free packaged cake mixes are getting to be very nice, not at all dry and the combination of the light layer of chocolate and the tart key lime was perfect.  My Heart makes the BEST desserts !!