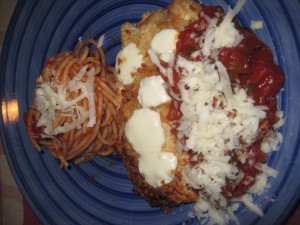 So I have a hate/hate relationship with Chicken Parmesan.  It has never made sense to me – cook chicken (or veal or eggplant or whatever) in a coating until crispy and then cover it with cheese and sauce and bake it until it is entirely soggy. Nope – don't get it and totally not a fan. Now, my kids are always arguing that there is no reason I shouldn't like it: crispy chicken (no it isn't), yummy marinara sauce (which I like), cheesy goodness (SOGGY Chicken!).  So I made it one of my cooking goals to try to make a Chicken Parm that I like.  My first attempt was good but it was missing the extra cheese.  This is attempt two and was a big success.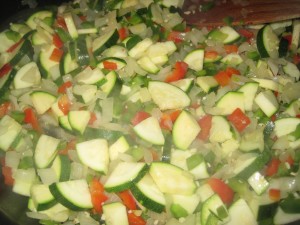 First started the vegetable marinara: chopped and sautéed 1 whole large onion, 1 large green pepper, 1 large red pepper, 2 garlic cloves, and 1 large zucchini until the onions were translucent.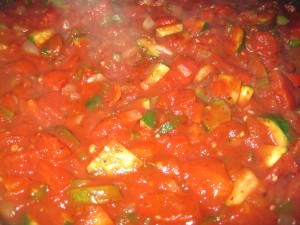 Added 1 28oz can of low sodium diced tomatoes and 1 small can of tomato paste.  Seasoning: 2 Tbsp Italian seasoning and freshly ground black pepper.  Bring to a boil then drop to a simmer.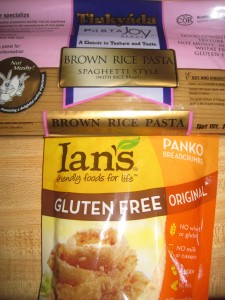 Also making this dinner gluten-free with gluten-free bread crumbs and spaghetti noodles.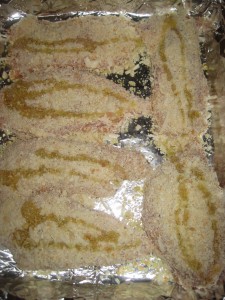 Boneless, skinless chicken breasts pounded to an even thickness of approx. 1/4″.  Scramble two eggs with 1 Tbsp of water, dip chicken in the egg/water mixture and then coated with gluten-free bread crumbs, sprinkle with shredded parmesan cheese, freshly ground black pepper, and drizzle with extra virgin olive oil.  Bake in a 400-degree oven for 20-minutes.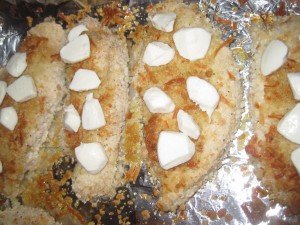 Remove chicken and top with slices of fresh mozzarella (I thought I had a ball of fresh mozzarella but it turned out they were small balls – next time, definitely a large ball). Return to the oven for 10 minutes, until the cheese starts to melt.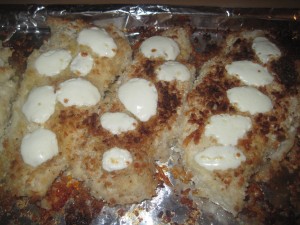 Chicken is nice and crisp and the cheese melted. I will definitely use the larger cheese ball next time.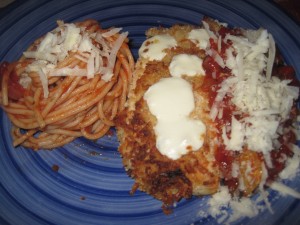 Plated with spaghetti tossed with the vegetable marinara  and the chicken could be topped with the marinara, depending on the person's choice – you can see that this is my plate with the marinara on the side, all topped with shredded parmesan.  Everyone seemed to like my version.  Success!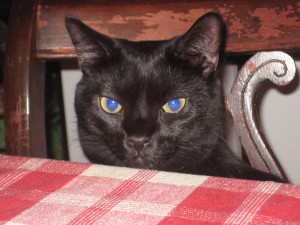 Even Loki was interested.