My Heart's birthday Sunday Roast – His request: Beef Bourguignon.  I've made quick and easy versions but not the "real" thing.  Ina Garten's Beef Bourguignon recipe looked good and I almost followed it. (smile)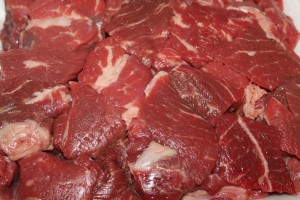 The recipe called for chuck beef, which was on sale. Unfortunately it was very thin so I used 2.5 lbs of stew meat instead.  Stew meat is generally made out of chuck beef and just needs a bit of trimming to get rid of any pockets of fat.  Brown the stew meat in small batches in 1 Tbsp olive oil in a dutch over (or a pan with a tight lid that can go straight into the oven).  Do not crowd the pan.  Remove browned meat from pan as you do the batches.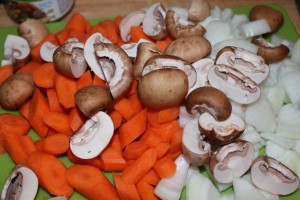 Prep: Turn oven on to 250-degrees.
1 lb of carrots, peeled and sliced diagonally – two medium onions, chopped – 1 lb baby bella mushrooms, stemmed and cut in half – 2 cloves of garlic, minced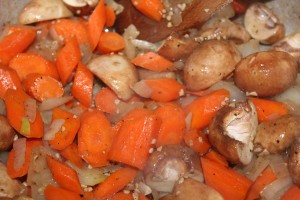 Sauté onions and carrots in pan that meat had been browned in for 10-minutes, until the onion is starting to lightly brown, add in the cut mushrooms and continue sautéing an additional 5-minutes. Add in the garlic and sauté 1-minute.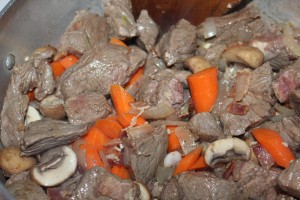 Return browned stew meat with the juices to the pan.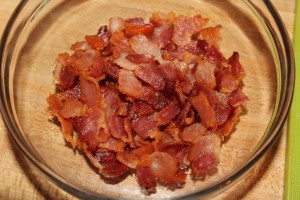 6 oz center cut bacon, chopped and browned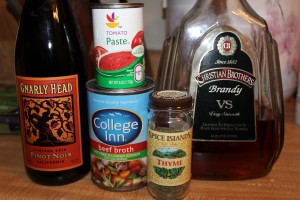 1/2c Brandy – 1 Tbsp tomato paste – 1 bottle of good Pinot Noir – 1 can (2c) low sodium, non-fat beef broth – 1 tsp thyme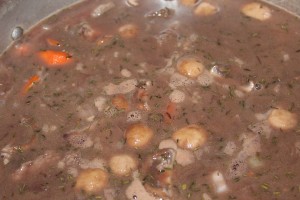 Add in the rest of the ingredients and combine thoroughly.  TIP: pour in half of the can of beef broth and then mix in the Tbsp of tomato paste with the remaining broth – it is easier to blend in the tomato sauce in a small can than to try to blend it in the big pot with the beef, etc. Once combined, pour into the pot.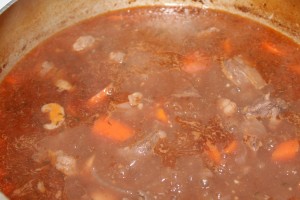 Cover and place pot in pre-heated oven for 1-hour and 45 minutes or until the meat and vegetables are fork tender.
Cook 1/2 bag (approximately 8oz) frozen pearl onions according to package directions, right before removing pot from oven.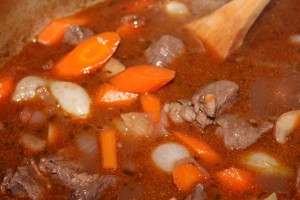 Return pot to stove top over medium heat. Add in the pearl onions.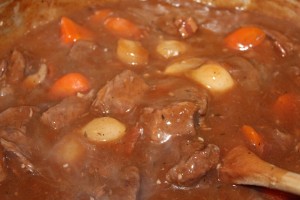 Combine 1/2c cornstarch with 1/2c cold water.  Slowly pour the cornstarch mixture into the Bourguignon to thicken – you are looking for a stew-like consistency.  Let cook for 15-minutes on medium heat – if gravy is not as thick as you like, mix in more cornstarch and water but remember that it takes time to thicken.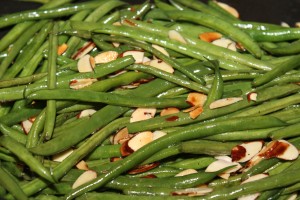 Side dish 1: Haricot Vert (French green beans)
Prep: toast sliced almonds in a small skillet – be careful not to burn.
French green beans are very thin, be careful not to over cook.  Put 1 lb French green beans in a skillet and cover with water.  Bring the water to a light boil, turn off the heat and cover for 3-5 minutes, the beans should be bright green.  Drain and return to the pan.  Add 1/2 Tbsp olive oil and sauté the green beans over high heat for approximately 5-minutes, being careful not to burn.  Add 1 Tbsp butter and the almonds and toss to melt the butter and incorporate the almonds.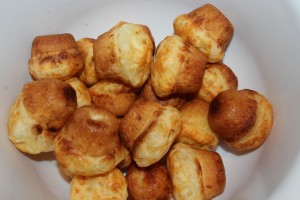 Side dish 2: My daughter made everyone's favorite: Pão de Queijo (Brazilian Cheese Bread) – they are super easy, incredibly delicious, and gluten-free … perfect for sopping up gravy!
My Heart was happy with his birthday dinner – the meat was tender and veg cooked just right and the gravy was super rich.  The green beans proved that spending that little bit extra for French green beans is totally worth it and my daughter had to make two batches of the cheese bread … sounds successful to me!!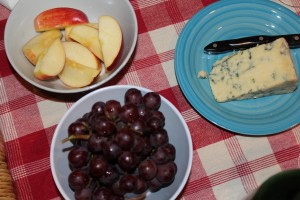 Birthday dessert?  My Heart wanted Port and cheese and fruit.  We bought a nice piece of Stilton and grapes and apples.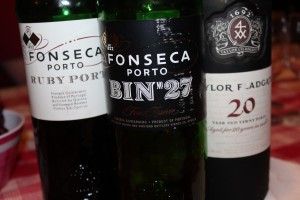 None of those bottles were Full and there were five of us – just to be clear.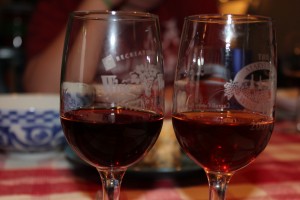 There is definitely a difference between Ruby Port and Tawny Port – even in the color alone.  After a very rich dinner – port and cheese was simple and perfect.