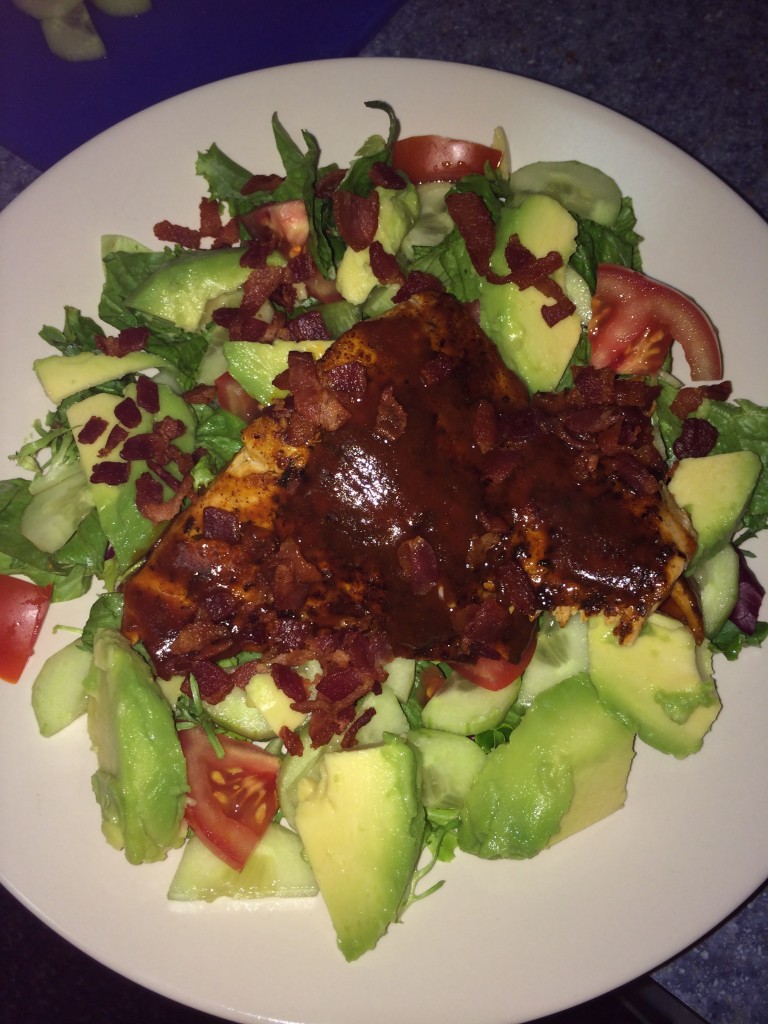 Fish Monday – Salmon on sale and wanting a little something different but also "healthy" (ok… there is bacon but who says that can't be healthy?).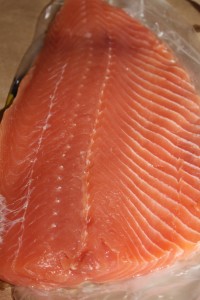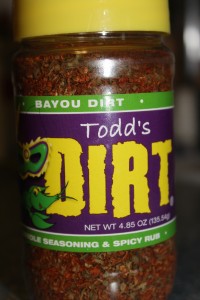 Really nice salmon fillet – topped with my new favorite: Todd's DIRT (This time, Creole Seasoning & Spicy Rub). Bought two varieties at a local craft festival and we, and the kids, have been using it on all sorts of things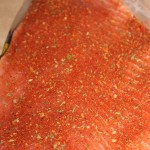 Just a "dash" on both sides of the skinned salmon.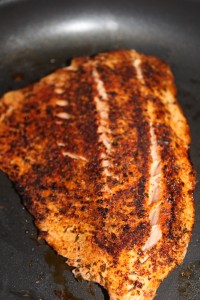 In 1 Tbsp olive oil, over medium-high heat, cook one side of the salmon for 4-minutes without touching, carefully flip and cook for 2-minutes then add the BBQ sauce, enough to cover the fish (don't skimp) and cover the pan to increase the heat inside the pan so the BBQ sauce starts to caramelize on the fish, but be careful not to burn.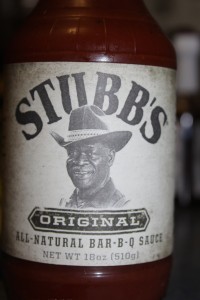 I really like this STUBB'S BBQ Sauce. It is not too sweet and has a nice bit of heat that doesn't overwhelming the food but leaves a lovely warmth in  your mouth. Sure hits the spot!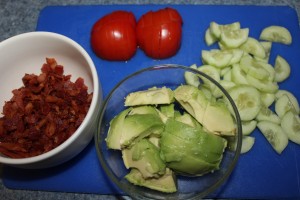 Salad ingredients include tomatoes, cucumber, chunks of avocado and a sprinkling of crispy bacon.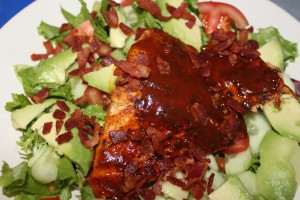 Plated on mixed Spring greens – a super delicious, somewhat healthy dinner. Such a great combination of textures and flavors with the buttery bits of avocado and the slightly sweet, flavor packed, warm salmon and the nice crunch from the crisp bacon. No salad dressing was needed.
Note: There was a piece of salmon leftover and we ate it later, cold, on crackers – it was delicious.  It would make a great SBLTA (salmon, bacon, lettuce, tomato, avocado) sandwich too!  Yum!