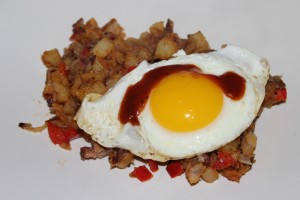 After skiing, we grabbed dinner at our favorite local BBQ stand, Chubby's Barbecue – the dinners are huge so I had leftovers and I knew exactly what I was going to do with them.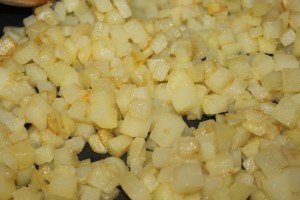 We had potatoes in the apt and that doesn't happen often – so two large russet potatoes, peeled and diced.  Sautéed in olive oil and 1 Tbsp of butter until the potatoes start to brown.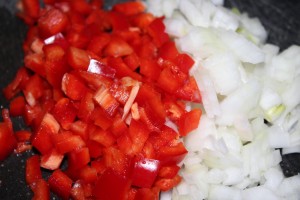 Diced one medium red bell pepper and one medium sweet onion.  Add to the potatoes and continue sautéing.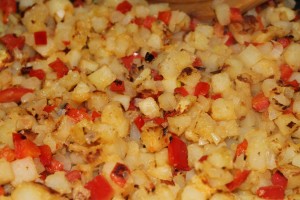 Hash is a great dish if you have leftovers. It takes no time at all and it is made with ingredients that you frequently have on hand. You can use raw or canned potatoes and you can add in basically any vegetable that you have on hand, cooked or raw.  I've used bell peppers, onions, mushrooms, zucchini, tomatoes, etc. Hash is perfect for leftover meats: chicken, sausage, beef pork – adjust the seasoning based on the meat that you use.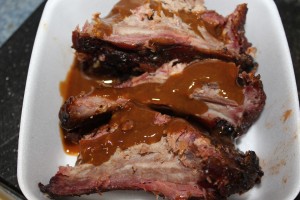 These are my leftovers – I ordered a 1/2 rack of baby back ribs. I ate three big, meaty ribs and had three more to bring home. I heated them for a minute in the microwave to make it easier to remove the meat from the bones and cut them up.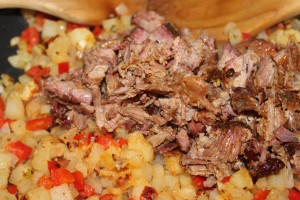 Add the chopped meat to the potato mixture and combine thoroughly.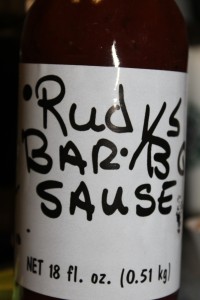 Rudy's Country Store & Barbecue is a tradition in Austin, Texas.  We visited on our trip to Austin last year and loved it – one of my Heart's friends were kind enough to send us some Bar.B.Que sauce.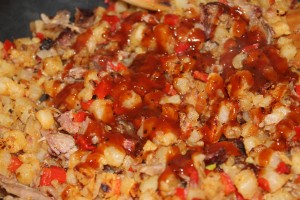 There was sauce on the pork but that extra 1/4c of Rudy's Bar.B.Que really ramped up the flavor.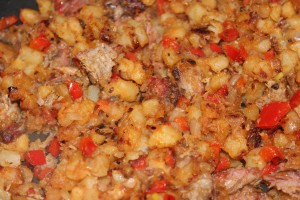 Of course, for us, it isn't Hash if it isn't topped with a fried egg… and a little drizzle of more BBQ sauce.