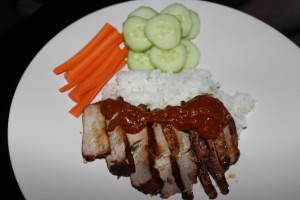 Asian Marinated Pork Steaks didn't turn out quite as I had planned but were delicious nonetheless.  I wanted something closer to the Vietnamese Grilled Pork but 1. didn't use a recipes and 2. the meat was thicker than it should be. BUT? It turned out lovely and delicious.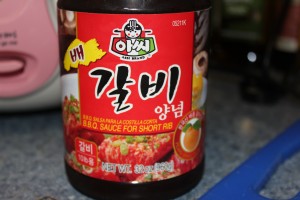 Used my favorite Asian marinade which is basically a Korean Bulgogi sauce – yes it says it is for short ribs but I really like the flavor. Marinated the pork steaks for 48 hours.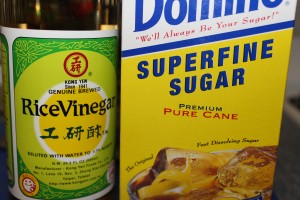 Next up – Pickled Carrots – The recipe I used was not nearly sour enough – next time I will use this recipe for Do Chua.  I also did not have any Daikon.. definitely in the plan for future dishes.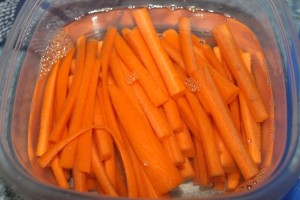 Julienne carrots in a combination of 2c warm water, 3Tbsp rice vinegar, 1Tbsp salt and 2Tbsp sugar – pretty simple.  After the first meal I drained out some of the liquid and added another 1/2c vinegar so it has more tartness.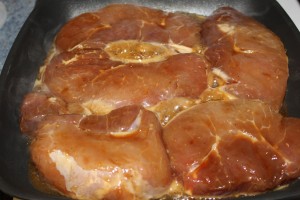 Marinated pork steaks Squeezed (should have just done three at a time but was being lazy) into the stove-top griddle pan searing at medium heat.  Cooked for approximately 10 minutes.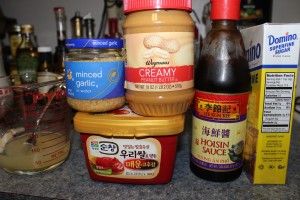 Peanut Sauce – Far more complicated than one would expect but definitely worth the time and effort. This is Emeril Lagasse's Peanut Sauce recipe and I pretty much followed it to the letter – I might mess with it next time.
Heat 1 Tbsp peanut oil in a small saucepan and, when hot, add 3 minced garlic cloves, 2 tsp chile paste (Gochujang), and 1 Tbsp tomato paste, and cook until garlic is golden, about 30 seconds. Add 1/2C broth, 1 1/2 tsp sugar, 2 Tbsp peanut butter and 1/4c hoisin sauce and whisk to combine. Bring to a boil, reduce the heat and simmer for 3 minutes. Remove from the heat and cool slightly before serving.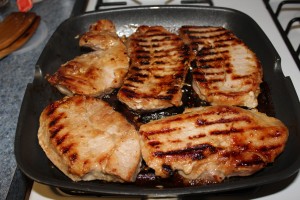 Flip pork and cook until pork reaches 160-degrees (internal temp).  This took approximately 15-minutes.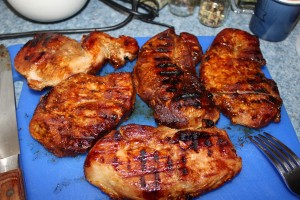 I was really worried that the pork wo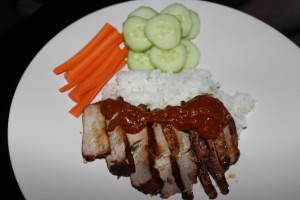 uld be dry – it wasn't. It was very moist and tender!
As I said at the top of the page, I wanted this to be similar to Vietnamese grilled pork so the sides were influenced by that. Asian short-grain sticky rice, the pickled carrots, and slices of raw cucumber. Topped the pork with the  tasty peanut sauce.  Notes for next time: Will definitely try thinner slices of pork.  Increased the vinegar in the carrots for the next time I used them (there were lots!).  The Peanut Sauce recipe is a Keeper!!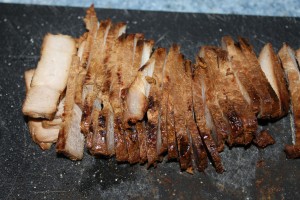 The plan for the leftover pork was to take the ingredients used for that dinner, including the carrots & cucumbers, and put them in a pita but I started to rethink that.  First Very Thinly sliced up two of the remaining pork steaks.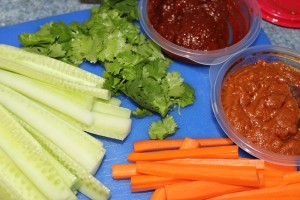 Toppings: fresh cilantro, cucumber spears, pickled carrots, the peanut sauce and a sauce my son's girlfriend makes for meat that combines an equal amount of  gochujang and doenjang (a Korean fermented soy paste),  which I like because of the heat.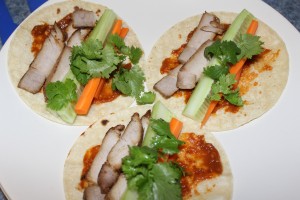 So instead of pitas – Tacos!  Toasted the corn tortillas on the flat top griddle then topped with the peanut sauce, and the rest of the toppings.  Delicious and a great use of the leftovers.  All in All, a very successful recipe !