So I became a Baltimore Symphony Orchestra Ambassador in June (you basically sign up to allow Social Toaster to post announcements about upcoming BSO events to your social media accounts and you accumulate "notes" (points) each month toward a prize.  Last month's prizes were 1. Two season passes 2. Two tickets to the Brandenburg Concertos concert & a gift certificate to Sotto Sopra… I won 2nd place and can't begin to express how happy I was with second place!
We walked a couple blocks to the restaurant and passed this Pope John Paul II Prayer Garden.. I think it is next to the Basilica.  I smiled and had to take a picture because there was a bird sitting on the Pope's head singing quite joyfully!
We were very early (we wanted to make sure that we didn't get caught in traffic or anything on a Friday evening) so we stopped for a pint at 
Mick O'Shea's Irish Pub
 – the place was packed but we managed to find a table by the window and had a very nice pint: 
Magners Irish Cider 
 on tap (which I NEVER find!) and Smithwicks for my Heart (isn't he handsome!)
Finally off to dinner at 
Sotto Sopra
 – starting with some lovely Prosecco – We decided to do the Tasting Menu so: Antipasti (appetizer) / Small Primi (small pasta dish) / Secondi (main course) / Dolci (dessert)
 Antipasti for me: CARPACCIO DI MANZO CON OLIO TARTUFATO AL LIMONE CON PARIGIANO (thinly sliced beef carpaccio / lemon-truffle oil celery / parmigiano) – what always floors me about Carpaccio is how flavorful a paper-thin slice of raw beef can be. This was simple and delicious.
My Heart's Antipasti: BUFFALO MOZZARELLA ("Fattoria Gala (Campania) buffalo mozzarella grilled plum / tomato / olive crouton / sage / pomegranate) – Totally knocked our socks off – the grilled plum & tomato gave it a stepped UP Caprese taste and the Pomegranate Balsamic glaze gave it an amazing bite.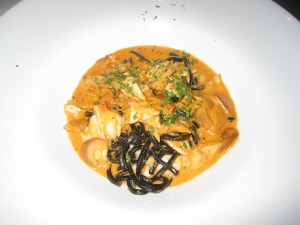 For my small Primi: 
S
paghetti Neri alla Chitarra con Ragu di Gamberi di Fiume e Porcini (
Squid ink spaghetti chitarra/ crawfish/ crab/ porcini mushroom cream sauce) 
– I can't stop talking about this dish.. it was by far my favorite of the evening – I know I am not supposed to be eating pasta but, for this, I would take the consequences. Little bites of crab and crawfish with lovely pieces of mushroom but it was the mushroom cream sauce that made the dish
to die for
. Absolutely stunning.
My Heart's Primi: RAVIOLI De ARAGOSTA (lobster / brandy-shallot reduction / fried leeks) – first… GORGEOUS.. the colors were amazing.   The crispy leeks were a great contrast for texture – the flavors blended perfectly.
My Heart's Secondi: SEAFOOD CIOPPINO (lobster stock / grouper / salmon / mussels / calamari clams / tuscan bread) – the broth was perfect and all of the seafood was cooked to perfection – the grouper had the skin still on it but nothing was overly fishy. Really lovely!
I had been looking at the menu for more than a week so I knew what my main course was going to be: ELYSIAN LAMB TENDERLOIN (ramp pesto risotto / wild mushroom madeira sauce) – the lamb was perfection .. cooked to that lovely pink rareness I love.  The risotto was delicious.. I really love risotto and MUST perfect making it myself… and the sauce brought the whole dish together. Unfortunately, at that point I was so stuffed I really didn't do justice to the risotto but there was definitely no lamb left on my plate!
My Heart's Dolci was definitely the Favorite – I don't have a description because they don't have their dessert menu online but a chocolate cake with a melted chocolate center (so when you cut into it a rich chocolate "sauce" oozed out) with raspberry sorbetto – the icy tart sorbet with the rich warm & gooey chocolate made this whole dessert unbelievable.
I was disappointed – I had ordered vanilla & salted caramel gelato but they were out of the salted caramel so I changed to chocolate.  It was all very nice but not extraordinary… although being absolutely stuffed probably didn't help.
All & All – one of the best meals EVER – I would go back Just for the pasta dish alone!  SECOND Place never tasted So Good!
Passed the Unitarian Church on the way back to the car – I agree: Civil Marriage is a Civil Right
You aren't allowed to take pictures during the concert but I figured no one would care during intermission and the 
Joseph Meyerhoff Symphony Hall
 is just so beautiful.  BUT… Looking up at these "sound button" all I could think was – Do they use a HUGE Flat-head screw driver to change those?  *smile*
The Brandenburg Concertos were lovely – it turns out that they are rarely ALL played together so that is a treat and several members of the BSO were highlighted through solos, which was very cool.  Also… if you want to hear the most amazing harpsichord solo ever written: Concerto #5 – check it out!   Thank you to the BSO Ambassador's program for a very memorable evening!